Third Order Carmelites, Saint Elias Province, NY

---
Our Lady Star of the Sea Community Calendar

Next Chapter Meeting Sunday, October 28, 2018
Meetings are usually the 4th Sunday of the month except for
holiday week-ends or Provincial events as indicated...
Please arrive 12:30 before the start of the meeting to help set up.
Meeting 1-3:30pm, Clean up
Ongoing Formation for October will be on the Statutes (in Carmel's Call). No preparation Required.

Homework for the November 25 2018, Ongoing Formation Class
Please view the following video and be prepared to discuss the questions given out at the meeting.
Click here - Video for the November Meeting



Also, please acquire the book "A Pattern for Life" by Fr. Patrick Thomas McMahon, O.Carm
by November's Chapter Meeting in preparation for Ongoing Formation Classes.

UPCOMING RETREAT
Sacred Heart Retreat Center
October 5, 6, 7 2018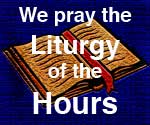 Contact Webmaster
Copyright 2007 Snowbird Designs